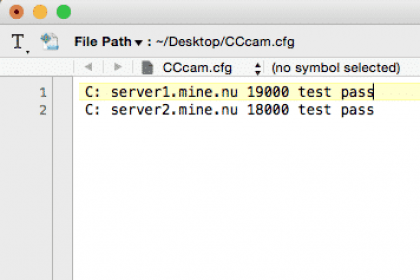 This Method is created by upmaker.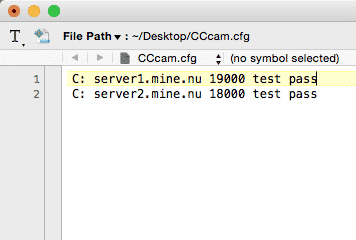 a lot of linux based sattelite receivers need CCcam.cfg file with your ccCam lines information in order to work with Cccam Server Or Cardsharing… Clients can  ask their providers for a CCcam.cfg file but no more . you can do it by yourself and getting things done…
Don't worry this method is pretty easy to understand and anyone can do it..
So we're going to start :
Step One :  Create A Plain Text Document
Step 2: put your Cccam Lines , Ports , UserName And Passwords exactly like shown below.
( The Normal Format For Showing Lines)
C: server port user pass
Step 3: Now From The Top left of your Text Editor (Notepad or TextEdit)  , Click File -> Save as
Step 4: There is a new window coming up , then from the below next to the TYPE File, select  ALL Files .
Step 5 : Then from the top of it in  File Name write CCcam.cfg and save it .
Step 6 : Looking for More Steps ? Sorry for disappointing you 🙂 Thats it, your CCcam.cfg file is ready to be used
Important : remember it`s vital that the first two C`s be in Caps Letters.
How to Create CCcam.cfg file